MakerBot
Innovation
Center
Elevate access, entrepreneurship, and multi-disciplinary collaboration on campus.
Request Information
Empowering the Innovators of Tomorrow
Discover how the University of Maryland is empowering students to collaborate across disciplines, build startups, and gain real world skills for the jobs of tomorrow with the MakerBot Innovation Center.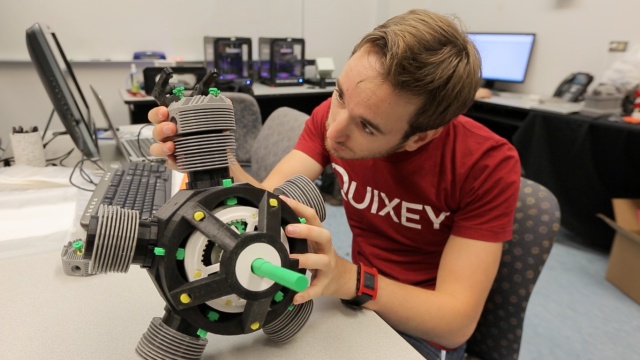 Differentiate Your University and Inspire Your Students & Teachers
Primary Benefits
Provide students with real-world ideation, design, and iteration experience through wider access to 3D printing

Attract and retain top caliber students and professors

Utilize unique, scalable 3D printing management software to easily accommodate growing demand from students, community partners, and entrepreneurs

Establish a learning commons that inspires and promotes cross-departmental collaboration and entrepreneurship

Foster economic development opportunities with the surrounding community
Secondary Benefits
Build a K-12 pipeline program by offering a unique, engaging resource and experience

Engage alumni and raise money from donors looking to advance STEAM initiatives in higher education

Accelerate return on investment with a simple cost recovery tracking tool

With your MakerBot Innovation Center your students and partners have access to MakerBot's Thingiverse API. Offer students, faculty, and entrepreneurs the amazing opportunity of building the next big 3D printing app.
The Accessible, Reliable Large-Scale 3D Printing Solution for Your University
Hardware and Supplies
University and community-wide access to a mix of MakerBot's industry-leading 3D printers

Focus on learning and collaboration with reliable, accessible 3D printers and consumables

Accommodate growing demand with scalable software and hardware

Get the right consumables when you need them with efficient consumables subscription plans
Installation and Training
Quickly integrate the MakerBot Innovation Center on campus with installation and training by an on-site MakerBot expert

Empower key faculty, staff, and students with 3D printing from the start
Software
Easily manage and scale-up your MakerBot Innovation Center with the Innovation Center Management Platform

Go from idea to end result quickly with the MakerBot Desktop Application
MakerCare for Innovation Center
Ensure reliability and minimal downtime with a dedicated support team and unlimited phone and email support as part of MakerCare for Innovation Center

Get the the most from your investment with full service on-site tune-ups to keep your MakerBot Innovation Center operating efficiently for years
Configurable for Today, Scalable for Tomorrow
The MakerBot Innovation Center combines our industry-leading products, resources, and services into a total solution fit for your university's needs. Our knowledgeable educational specialists will work with you to assess those needs and determine which configuration of our products would scale best for your university. We'll also assist in setting up your MakerBot Innovation Center and training your staff, faculty, and student interns to operate and maintain it. Beyond this, we also provide a range of courses designed to maximize your resource and take users to the next level of 3D design.
Contact Us
Downloads
Check out and share these useful references
Thank you for requesting a quote!
A MakerBot Sales Representative will contact you within 24 business hours to talk about which of our MakerBot products will best serve your needs.
Meanwhile, please start exploring Thingiverse for the types of objects you'd like to 3D print with your new MakerBot Desktop 3D Printer. And be sure to check out our MakerBot Filament, which comes in a variety of materials and colors.
Please feel free to call us at +1 347 334 6800 with any questions.
Thank you, The MakerBot Team