Veteran MakerBot Cupcake operator Zaggo recently documented and published his method for aligning and applying Kapton tape to a smooth surface without bubbles.  Anyone who has tried to put tape onto anything has probably had some trouble getting the tape to align properly and, if it's being affixed to a smooth surface, removing any bubbles from under the tape.  Once the tape is down it's either difficult to remove, introduces more bubbles and wrinkles when you lift it, or it can cause more bubbles, wrinkles, and misalignments when you lay it down again.
Zaggo has helpfully created a video (with awesome music!) to demonstrate his process.  If you've got one of the new Aluminum Build Surfaces for the Thing-O-Matic, you're definitely going to want to check out this tutorial.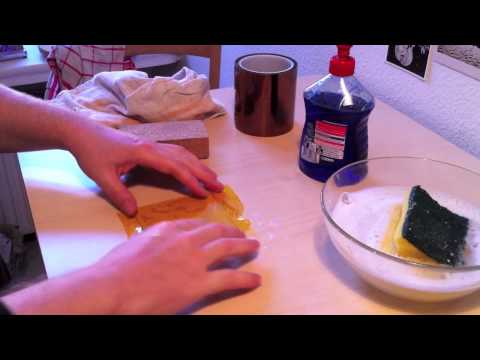 In case you've got YouTube blocked, his process basically involves cutting the Kapton to size, applying soapy water liberally to his glass surface, putting the Kapton and onto the wet soapy glass.  The soapy water will keep the Kapton from sticking, so you can easily move it around and align it.  Then he used a scraper (or squeege?) to squeeze out the water and any bubbles.  Once it dries, it should be stuck on perfectly.