MakerBot Electronics in a Pick and Place Machine
Mark Sproul of the Rutgers School of Engineering has his students putting together their senior design projects in Industrial Engineering using MakerBot electronics!  For those of you who remember the very early days of MakerBot1 probably recall that our electronics have been used in everything from RepStraps, to home-brew 3d printers, to CNC mills.  Right now, one of Mark's students have begun construction of a CNC pick-and-place robot and the other is working on a CNC cutter for vinyl or leather.
A pick-and-place machine is a robot that picks up very small surface mount electronics and places them in the appropriate location and orientation.  Having such a device allows a user to quickly create electronics using smaller and cheaper surface mount electronics parts.  A DIY pick-and-place machine is a pretty big deal because commercial machines are incredibly expensive – in the tens of thousands of dollars for even a used machine.  Here's a short video of their prototype pick-and-place machine going through some calibration steps.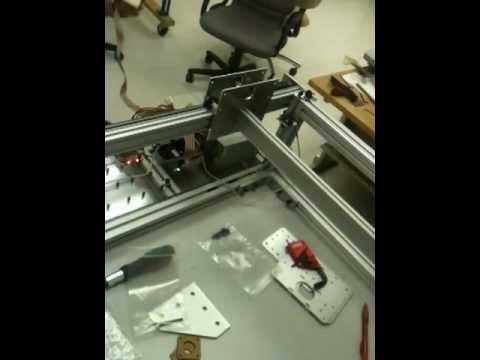 Keep up the awesome work guys!
Which is really funny given that we're less than three years old! [↩]